The first two months of 2022 delivered a series of positive developments for Hawaii's tourism industry, and if the current trends hold, it will mean more options for travelers and fewer headaches for travel advisors heading into spring break and summer.
Covid-19 protocols are sunsetting, cruise ships are plowing through Hawaii's waters again for the first time in more than two years, and for those who have been away from the Aloha State since before the pandemic's arrival, there are plenty of refreshed hotel options to choose from.
Rolling back restrictions
The news that many in Hawaii's tourism industry had been waiting for finally arrived on March 1, when Gov. David Ige announced the Safe Travels screening program would expire on March 25. 
Visitors after that date will no longer be subject to vaccination or testing requirements in order to be exempt from a self-quarantine period. Since Safe Travels launched in October 2020, more than 11 million people have been screened. The program, coupled with other regulations, helped check the spread of Covid-19 in the Islands, but the expiration of the rules will mean fewer hoops for travelers to jump through — and less hand-holding for travel advisors. 
Last week, the governor went one step further, saying the state's indoor mask mandate also would expire on March 25.
"Absolutely, this will make life easier for us," said Laura Lukasik, manager and travel advisor at Viking Travel in Illinois. "It's become very intensive for us, acting as the sherpa for everyone, explaining to them each and every step of the screening process and rules. It will help alleviate a lot of frustration."
Additionally, as the Covid-19 case rate in the Islands falls following surges sparked by the delta and omicron variants, numerous regulations regarding public gatherings and businesses are getting discarded at the county level. 
On Oahu, the most populous island and home to Waikiki, the Safe Access Oahu program expired on March 5. Under the policy, patrons of restaurants, bars, gyms and other businesses were required to show proof of vaccination or a negative Covid-19 test to gain entry. Similarly, on Feb. 21, Maui County, which includes the islands of Maui, Molokai and Lanai, dropped its vaccine and testing requirement for restaurants, bars and gyms that had been in place since September. And Kauai and the Island of Hawaii joined Maui and Oahu in announcing the expiration of the remaining Covid-19 regulations as of March 1.
Hospitality leaders welcomed the news regarding Safe Travels and the lifting of other restrictions and reported immediate signs of booking growth. 
"We are already seeing an increase in searches and call center volume, which bodes well for the spring and summer domestic travel market," said Sean Dee, Outrigger Hospitality Group executive vice president and chief commercial officer. "The key international markets, including Japan, are still heavily restricted, so recovery in those markets will be much slower, which will impact Oahu for the foreseeable future. But certainly the overall forecast is much more promising than it's been for many months."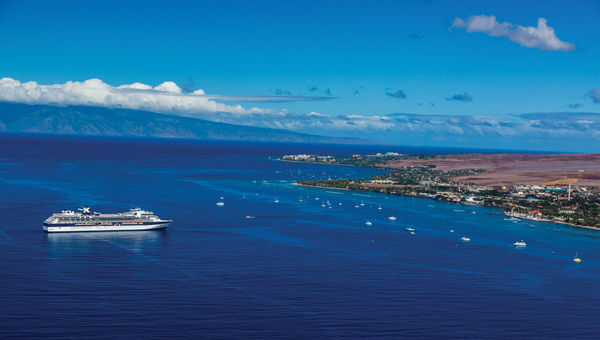 Large cruise ship sailings returned to Hawaii in January. Photo Credit: HTA/Tor Johnson
Cruise comeback 
Small ship sailings of fewer than 50 passengers launched in Hawaii around Thanksgiving, followed by the first large cruise ships since the onset of the pandemic arriving in Oahu in early January.
The state health department and other agencies worked out agreements with a handful of cruise operators, including Princess Cruises, Carnival Cruise Line, Norwegian Cruise Line and World Residences at Sea to bring sailings back to the Aloha State. The agreements call for the cruise lines to follow a series of health and safety regulations, including requirements that 99% of passengers be vaccinated and that the ships provide a quarantine/isolation system, medical rooms, onboard testing and medical staff. 
Loretta Sedghi, an advisor for California-based agency TravelStore HQ, said the return of cruises has sparked new interest from clients, but she has still been frustrated by continued delays and postponements, noting a Pride of America Hawaii cruise originally scheduled for January had been postponed multiple times and is now slated for April. 
"I've definitely seen interest in the cruises now that they are back, and in general there's a lot of interest in Hawaii now," Sedghi said. "I've got some bookings on the Pride of America cruise, and I'm just praying they don't change the dates again."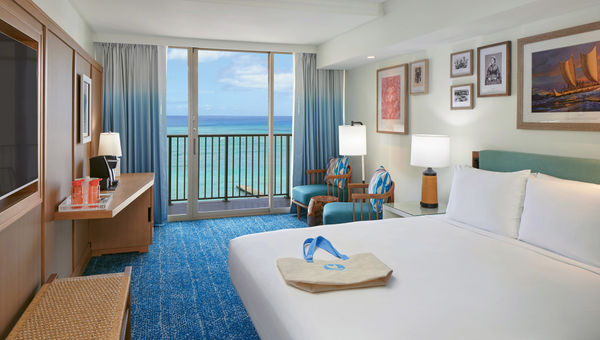 A guestroom at the Outrigger Reef Waikiki Beach Resort, which recently completed an $80 million renovation. Photo Credit: Courtesy of Outrigger Reef Waikiki Beach Resort
Refreshed resorts
Hawaii's hoteliers have been busy the previous two years executing updates and adding amenities.
On Hawaii's Big Island, the Four Seasons Resort Hualalai wrapped up a $100 million, propertywide revamp with a refresh and expansion of its most luxurious suites and various other improvements, including a new infinity-edge pool and lounge deck, the addition of the Kumu Kai Marine Center for educational programming and activities and updates to the Hualalai Golf Course and golf facilities.
On the Valley Isle, the Andaz Maui at Wailea Resort added 19 villas, and the Kaanapali Beach Hotel introduced a signature restaurant and redid the guestrooms in two of its four towers.
Meanwhile, recent renovations of the Outrigger Reef Waikiki Beach Resort and Turtle Bay Resort on Oahu and the Westin Maui Resort and Spa, Kaanapali, have received glowing reviews.
"I had a big group at the Westin, and they loved it," Lukasik said. "They have that new [Hokupaa] tower with a club level that's unique and different and makes it stand out from the crowd. And everyone I've sent to Turtle Bay since their renovation has absolutely loved that property. They are exceeding expectations."
The Outrigger Reef Waikiki Beach finished an $80 million renovation in early 2021 that included a refresh of all guestrooms, the addition of new rooms and suites, a plethora of new wellness and activity upgrades and a redesign of public spaces.
Advisors expect 2022 to be a year of high demand for the Islands and suggest booking early with the expectation of climbing rates. 
"I'm seeing airfares to Hawaii creep up quickly, and it's smart to book well ahead to make sure you can get the hotel and activities you want," Sedghi said. "I feel prices will continue to rise through the year." 
link