SINGAPORE, 10 November 2022: Life for Singapore's ship spotters took a turn for the better during the year's second half as cruises made a comeback in Southeast Asia.
Enthusiastic spotters shot snaps of Viking Orion earlier this week on an overnight stop at the Singapore Cruise Centre, while Facebook posts heralded the return of Viking Ocean Cruises Asia.
According to the Singapore Cruise Society, Viking Orion is now sailing north to Laem Chabang port in the Gulf of Thailand, bringing to a close its first intercontinental cruise featuring Asia in more than two years. It will dock at Thailand's principal cruise port 100 km south of Bangkok.
Viking Orion marking its return to Asia this week, completed a 27-night cruise that started in Honolulu, Hawaii and featured five countries – the US, Australia, Indonesia, Singapore and Thailand. Fares for the cruise started around AUS6,799, with the cruise line saying the focus is on gaining more port days and fewer days at sea. The inaugural cruise post-Covid-19 sailing explored coastal cities in Australia, Cairns and Darwin before visiting Thursday Island, Singapore and Bangkok.
It was a busy week at the Singapore Cruise Terminal, according to the Singapore Cruise Society's Facebook post that monitored Ocean Odyssey sailing' under the Vantage Deluxe World Travel owners' flag. The vessel concluded its "delivery voyage" when it docked in Singapore on Tuesday, arriving from Manila, Philippines, after leaving the shipyard in China.
The Ocean Odyssey and her Infinity-class sister ships share a distinctive  Ulstein X-Bow, a design that gives smaller ships a smoother ride and better fuel economy.
Ocean Odyssey has a capacity for 134 passengers in 77  standard cabins and 15 cabins specifically designed for solo travellers. It will spend its inaugural season 2023 in Asia, sailing expedition cruises to Indonesia and Australia.
The Wild Landscapes of Indonesia & Australia – 2023 sailings are home-ported out of Singapore. The  22-night cruise features port of calls in Pulau Lengkuas/Belitung Islands, Kumai/Kalimantan, Karimun/Kura Kura, Semarang, Madura, Probolinggo, Celukan Bawang/Lovina Beach, Benoa, Gili Islands, Badas, Rinca/Komodo, Sumba, Sawu, Ende, Lembata, Kalabahi, Kisar and Darwin Australia. The cruise has a starting price tag of USD17,999 or USD666 a day and features 42 land tours in Indonesia and northern Australia.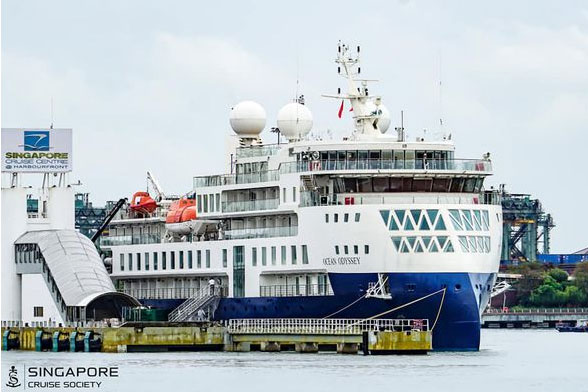 The five-star Ocean Odyssey follows the launch of Ocean Explorer in 2020.
"We couldn't be more excited to build on the success of the Ocean Explorer with the Ocean Odyssey," said Vantage Deluxe World Travel chairman  Henry Lewis. "Our travellers want an intimate, enriching experience where they can truly absorb history and culture with fewer guests and a better staff-to-guest ratio. The Ocean Odyssey will cater to those who appreciate relaxed refinement, unparalleled cultural enrichment, and unique adventures."
The return of cruise ships to Singapore started earlier this year, with a steady rise in the daily port of calls since July.
A report by the US Department of Commerce International Trade Administration released at the end of September noted that many cruise operators had announced the resumption of port calls in Southeast Asia, and cruise bookings are steadily increasing. The Singapore Tourism Board (STB) expects Singapore's cruise industry to return to pre-pandemic levels by 2024.
Between 2010 and 2019, Singapore's cruise industry contributed USD530 million to Singapore's economy, attracting more than 1.2 million people in 2016 alone. Singapore was one of the top destinations for port calls before the pandemic due to its strategic location as a gateway to tourist destinations in Southeast Asia. It is relatively close to more than 25,000 islands, including Bali, Langkawi, Phuket and 37 UNESCO World Heritage sites, the US Department of Commerce reported noted.
"The outlook for the cruise industry looks positive, with revenue from the cruise industry projected to reach US$239.1 million in 2022. That is a good sign compared to the previous two years during the global pandemic. With an expected annual growth rate of 13.86%, the market volume should grow to USD401.80 million by 2026," the US Department of Commerce specialist Chan Yiu Kei concluded.

link