From booking tickets to boarding to the in-flight experience, Southwest Airlines just does things differently than other carriers. But few things stand out more than Southwest baggage fees.
Long after every U.S. airline began charging another $30 or more for bags, Southwest still lives by the slogan: "Bags Fly Free." No matter what kind of ticket you buy, every Southwest fare includes two free checked bags.
That policy can help you come out far ahead flying Southwest with bags … but as we've come to accept with many airlines, it's not quite that simple. While Southwest's bag fees are largely nonexistent, there are some important caveats and limits you'll need to keep in mind to make sure your bags do fly free.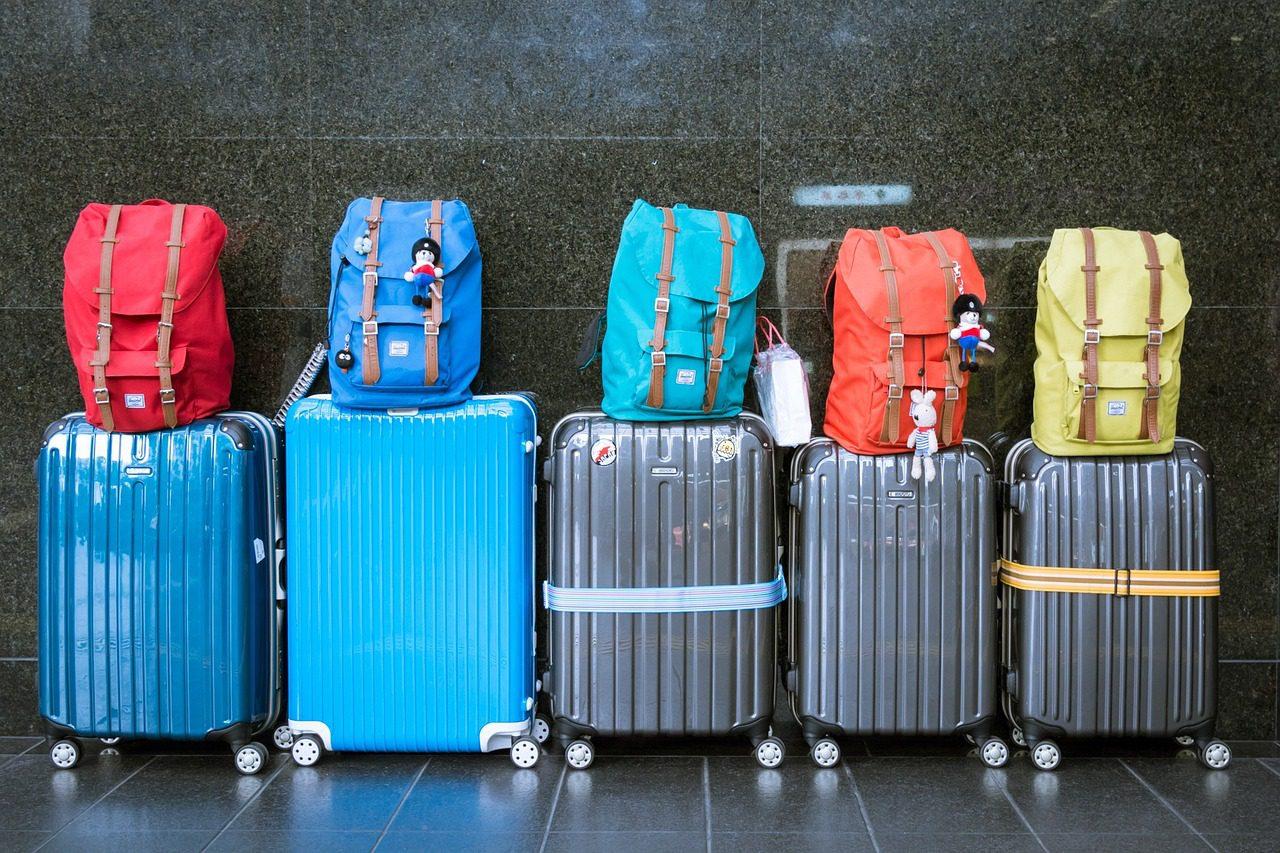 Flying with a pet on Southwest? Got extra heavy or extra large luggage? Have an oversized musical instrument? It'll all cost you a fee on Southwest. But your regular luggage, whether you carry it on or check it, won't cost you a penny on Southwest.
Here's our breakdown of Southwest Airlines baggage fees – or lack thereof, in most cases!
Southwest Carry-On Baggage Fees
When Southwest says bags fly free, they mean it. And that includes carry-on bags, too.
Southwest's rules say you may carry on one cabin bag and one personal item on all Southwest flights for free. That's on par with most major U.S. carriers – and even better than ultra-low cost carriers like Spirit and even some big airlines' cheapest fares like United basic economy or JetBlue basic economy, which ban carry-on bags or charge extra.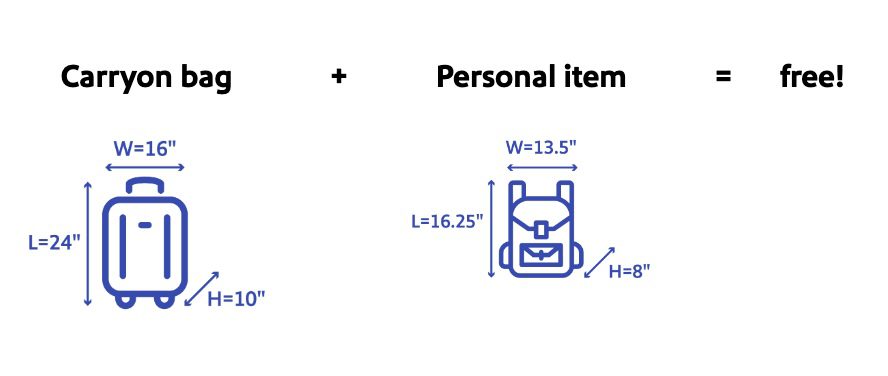 According to Southwest's policies, the carry-on bag must be stowed in the overhead compartment and the personal item can be stowed under the seat in front of you.
Southwest Airlines carry-on bags cannot exceed 24 inches long, 16 inches wide, and 10 inches deep – even more generous than many other airlines' limits. Both roller bags and small suitcases are allowed as carry-on bags.
 
Personal items must fit under the seat in front of you, meaning they can only be 16 1/4 inches long, 13 1/2 inches wide, and 8 inches deep. Southwest says personal items can be things like backpacks, purses, or laptop bags.
Once again: There are no Southwest carry-on baggage fees or fees for personal items, either.
Southwest Checked Baggage Fees
All Southwest Airlines baggage fees are for checked bags … but most checked bags are free on Southwest.
Each and every customer is allowed two free checked bags on all Southwest flights. That stands out, considering U.S. airlines have turned baggage fees into a cash cow, raking in almost $6 billion in 2019 alone. Southwest has the most lenient baggage policies for every single one of its fare classes, and it's not even close.
Best of all, that policy doesn't just cover your standard suitcase full of clothes. It also includes many extra types of luggage travelers may want to bring along on their trip. For example…
Golf bags and ski or snowboard equipment all count as one free checked bag, at least so long as they are within the weight limit.

Ski boot bags and ski bags are considered one checked item, even when tagged separately.
So what bags qualify as free checked bags on Southwest?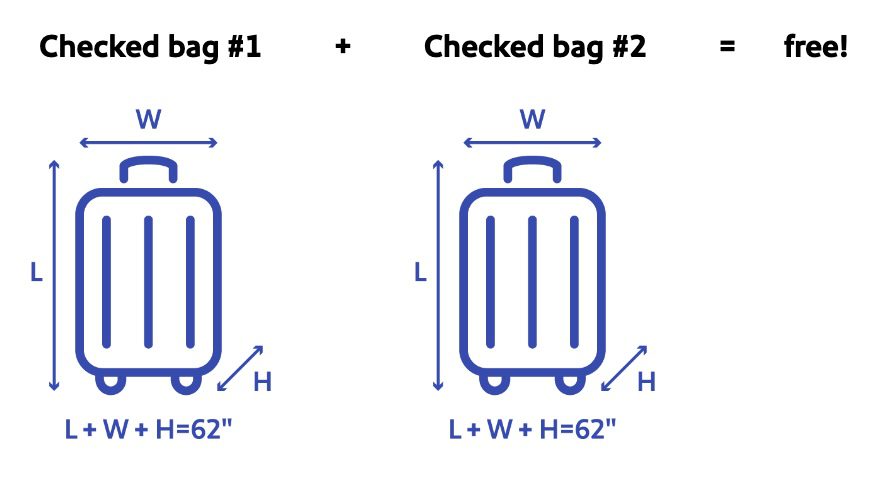 Southwest Airlines checked bags can weigh up to 50 pounds each. Southwest checked bags cannot exceed 62 inches in size when you add the length, width, and height of the luggage.
Need to check more than two bags on your flight? Each additional bag beyond your two free checked bags will cost you $75.
Checking in Your Bags with Southwest
Southwest Airlines checked bags should be checked-in using self-tagging kiosks at the airport where available. Southwest agents are also available to help, if need be, at every airport with Southwest service. But in my experience, the self-bag tagging kiosks are extremely simple and easy to use, and could save you tons of time at the airport, too.
When you are making your travel plans, be sure to build in some extra time at the airport when you fly Southwest. You must check your luggage at least 45 minutes before departure for domestic travel on Southwest.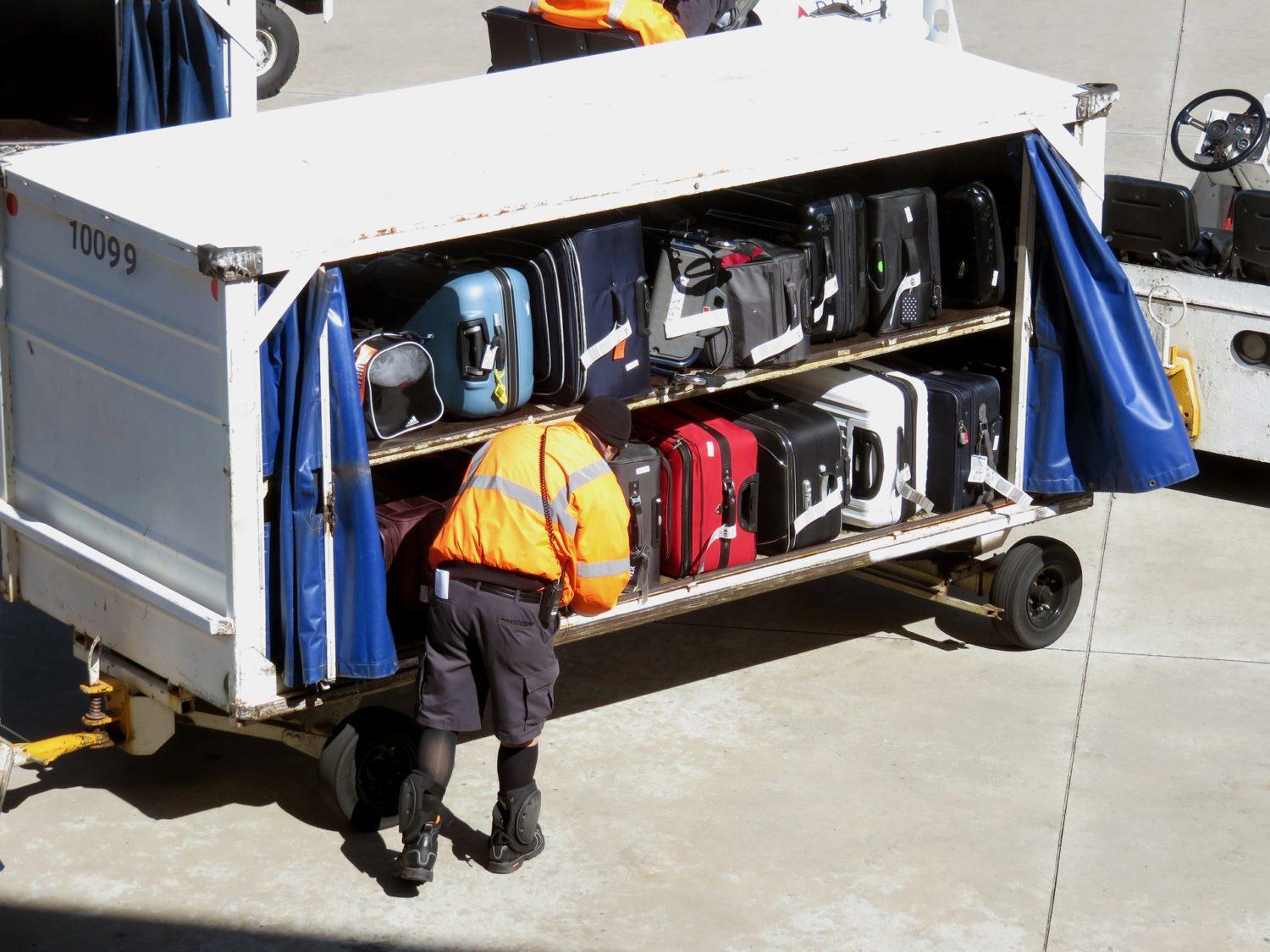 It's even more important when flying Southwest internationally. You must check your luggage at least 60 minutes prior to your departure time for all international flights. For flights to Aruba, check-in is required 75 minutes before departure. Failure to check in on time for international flights means you will likely be denied boarding.
Southwest Oversized Baggage Fees
Got really big bags? Or overweight baggage flying Southwest? This is when you're most likely to wind up paying Southwest baggage fees.
Bags between 62 inches and 80 inches in size (remember, just add the length, width, and depth of your bag) will also cost flyers $75. No bags over 80 inches in size are permitted on Southwest flights.
Bags that weigh more than 50 pounds are also $75. Southwest will not accept bags over 100 pounds.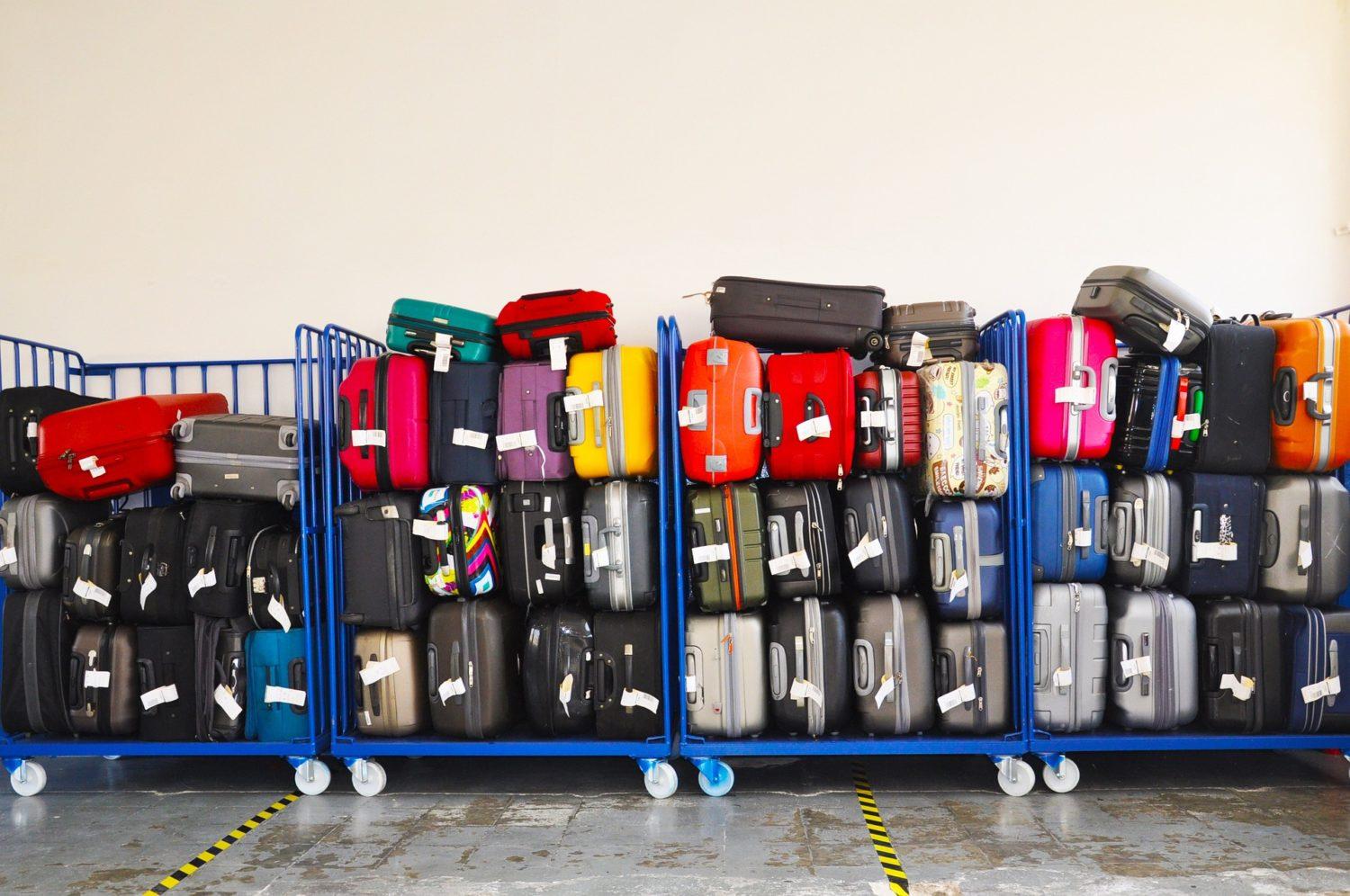 That said, some travelers won't have to pay any baggage fees, no matter how big or heavy they are. Active duty military personnel with a valid military ID are exempt from the two-piece baggage limit on Southwest and are also exempt from excess, oversize, or overweight baggage charges so long as the bags weigh less than 100 pounds and smaller than 80 inches (again, length + width + depth) each.
Southwest Airlines Pet Policy
Sometimes it's nice to bring a piece of home with you when you travel. But if you want to bring your beloved pet (or pets) with you on your Southwest flights, you're going to have to pay a fee.
Pet carriers are counted as either your personal item or your carry-on on all Southwest flights – except when flying to or from Hawaii. No pets are allowed on flights to Hawaii, though they are allowed on intra-Hawaii flights.
Small, vaccinated domestic dogs are allowed onboard domestic Southwest flights. While pets must be vaccinated to fly on Southwest flights, the airline says it does not check vaccination documentation pre-flight.
 
All pets must be reserved ahead of time by calling 1-800-I-FLY-SWA. Only six pet carriers are allowed on each flight and will be allowed on a first-come, first-serve basis.
Pet fares must be paid at the airport ticket counter on all Southwest flights where pets are allowed. The Southwest pet fee is $95 each way per pet carrier on Southwest. The fare is $35 on intra-Hawaii flights.
Pets are not permitted on any international flights or any itinerary that includes an international flight when flying Southwest.
 
Southwest Pet Carrier Requirements
Pet carriers can be a maximum of 18 1/2 inches long, 13 1/2 inches wide, and 9 1/2 inches high on Southwest flights.
Southwest also sells its own pre-approved pet carrier. It is 17 inches long, 9 1/2 inches high, and 10 inches wide.
 

Southwest says cats or dogs must be completely inside the carrier at all times and be able to stand up and move around the carrier with ease.
Read more: A First-Timer's Guide to Flying with a Carry-On Pet
Checking Sports Equipment on Southwest
Southwest flies to tons of fantastic outdoorsy destinations where you might want to bring your sports equipment along. Luckily, the airline has a pretty lax policy about sports equipment too – although you might have to pay a small fee to bring some things along.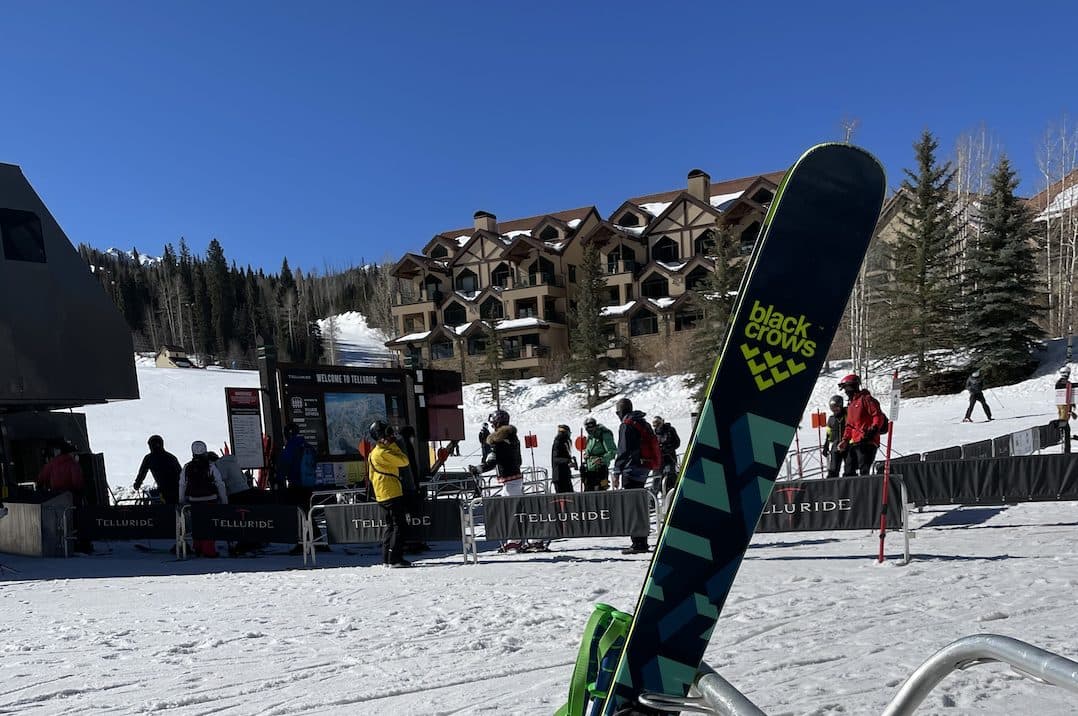 The following types sports equipment are considered regular, free checked baggage on Southwest flights and do not require any baggage fees.
Archery equipment
Baseball and softball equipment
Bicycles (under 50 pounds and 61 inches)
Boogie or knee board
Bowling equipment
Fishing tackle box and fishing rod (must be under 91 inches in length. Rod case and tackle box count as one item)
Golf equipment
Hockey or lacrosse equipment (sticks must be taped together and are considered one checked bag with the equipment bag)
Blades (i.e. Knives, dress sabers, and swords)
Parachutes (Carry-on or checked, but may not be worn inflight)
Scuba equipment
Skateboards (Carry-on or checked)
Snow ski or snowboard equipment (ski/snowboard bag and boot bag count as one item)
Surfing equipment (on intra-Hawaii flights only)
Water ski equipment
There are, however, some types of specialty sports equipment that will cost travelers a fee. Each of the following sports items cost $75 each way on any Southwest flight.
Bicycles (between 50 and 100 pounds and between 62 and 80 total inches)
Javelins
Kayaks
Kiteboards
Life raft cartridges
Surfboards (on all flights outside of Hawaii)
Vaulting poles
Wind surfing boards
Firearms, Camping Equipment, and Musical Instruments on Southwest Flights
Some specialty items fit into their own category on Southwest flights.
Here are some details about firearms, camping equipment, and musical instruments on Southwest flights.
Firearms
Firearms count as regular checked baggage and are free of charge on all Southwest flights, so long as they adhere to size and weight requirements of all checked bags.
Travelers must declare firearms at the ticket counter and ensure the firearms are free of ammunition and that the magazine clip has been removed when applicable. Firearms can never be carried onboard Southwest flights. They must be encased in hard, locked containers. Southwest flyers are limited to 11 pounds of ammunition per person, including the weight of the container itself.
Paintball and airsoft guns also must be declared at the ticket counter. Compressed gas cylinders can also be brought onboard Southwest flights if they are disconnected from the regulator valve.
Self-defense sprays such as pepper spray are not allowed in checked bags or in your carry-on on any Southwest flight.
Camping Equipment
One book of safety matches or one common lighter are both allowed onboard Southwest flights.
Torch lighters, lighter fluid, strike anywhere matches, or fire starters are all prohibited on Southwest aircraft.
 
Camp stoves and lanterns fueled by flammable liquid or gas are prohibited unless they are unopened and in the manufacturer's packaging. Propane and butane equipment are allowed so long as there is no fuel cylinder.
Knives and axes with the blades protected can travel in checked baggage only.
Musical Instruments
Instruments can be brought onboard as carry-ons, so long as they adhere to the carry-on size requirements of Southwest Airlines. Instruments bigger than those size requirements can still be brought onboard if it will fit in an overhead bin or under the seat in front of you.
Instruments that won't fit in overhead bins or under the seat in front of you can be brought onboard if you purchase a seat for it. The instruments must be placed in the first row and be on the window side of all customers in the row. It also must fit in the seat and be buckled into a seatbelt.
Some large instruments like double basses, cellos, and others must be transported as checked baggage. For checked instruments, no fees will be charged if the instrument's case is under 50 pounds and 62 inches. Oversized or overweight instruments will cost travelers $75 each way.
The maximum size and weight requirements for instruments is slightly larger. Oversized and overweight instruments can be up to 150 inches in size (length plus width plus height) and 165 pounds. Anything larger than that is not allowed on Southwest flights.
Bottom Line
Southwest has one of the best baggage policies of any airline, period … because it means you're often not paying fees.
With two free checked bags on every fare and free carry-on bags, too, Southwest checked bag fees are second to none. But you may wind up paying if your bags are oversized, overweight, or if you're trying to check something out of the ordinary.
 
link