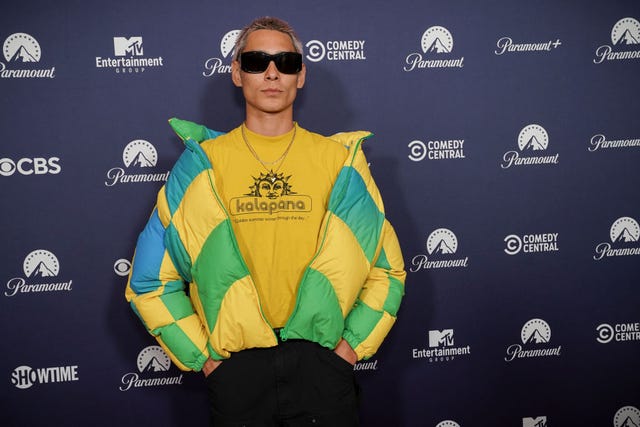 CBS Photo ArchiveGetty Images
Evan Mock stays booked and busy, and he wouldn't have it any other way. The pro skater first started gaining attention within fashion circles a few years back, when he began walking in runway shows and starring in ad campaigns. His fluorescent buzzcut and those cheekbones made him an instant It boy, and he quickly garnered a cult following⁠—inspiring many to buzz their head and dye it bright pink, as well as pick up on his style aesthetic, which is decidedly skater-cool and comprised of Hawaiian duds he describes as both "minimal" and "uber-casual." He's designed in collaboration with several brands in the past, including RCVA and Giuseppe Zanotti, and released a streetwear brand called Sorry In Advance. His new brand, Wahine (Hawaiian for "woman"), is the first high-end design endeavor founded by Mock.
Between filming the new season of Gossip Girl and skating around the world, Mock designed the collection alongside New York-based stylist and creative Donte McGuire, creating a capsule of unisex wares that delivers on the Hawaiian promise of casual cool. Wahine hones in on the traditional surf and skatewear style that is specific to Hawaii, being the laid-back island state that it is, and honors Hawaiian people, especially the women. Expect to find tight-fitting rashguards, boxy workwear pants, easy tees, and a striped button-down that suggestively states "MY BOYFRIEND IS OUT OF TOWN." The humor and color palette speak to Mock's creative vision, one that calls upon Hawaiian tradition while also bringing a global flair and taste—and maybe a little bit of that Upper East Side influence, too.
Below, ELLE.com caught up with Mock while he was riding waves in Jamaica to discuss his favorite designers, summer travel plans, and why he launched Wahine.
---
What sort of style did you grow up seeing in Hawaii?
Board shorts, no shoes, no shirt, surfboard, riding in a back of truck, heading to the beach—very minimal.
How was working with Donte on this collection? Was it important to have another person working on this with you?
Yes, [and] it was great working with Donte. I definitely can't do it alone, and he gets things done, so it's nice to be able to count on someone who can get the job done. I think it's a learning experience for both of us, and we're willing to learn.
Who are some of your favorite designers?
Pierpaolo [Piccioli], Kim Jones, Eli from ERL, Matthew Williams, and T-Rex Global from Atlanta.
Who from the OG cast of Gossip Girl has the best style?
For me, it would probably have to be Blair Waldorf.
If you could tell everyone one thing about Hawaii they don't know, what would it be?
Don't mistake "aloha" for weakness.
What's one thing you're really looking forward to this summer?
Hopefully having a European summer [and] going somewhere new I've never been before, or all of the above.
How do you get dressed everyday? Is there a formula you follow?
I don't necessarily have a formula; I think it's kind of just whatever I'm feeling. I can't really script it. It's just a feeling when I open my closet.
What do you hope people take away from this collection?
I feel like people should keep an open mind and hopefully just continue to grow their fashion sense and continue to grow their style, whatever that may be. Whether it's with Wahine, or with any another brand, I feel like it's something much needed to keep things fresh, to keep things fun. We're very much here to keep things fun, functionable, and fresh.
This interview has been edited and condensed.
This content is created and maintained by a third party, and imported onto this page to help users provide their email addresses. You may be able to find more information about this and similar content at piano.io
link