Two years of Covid-19 restrictions have canceled public events or forced them to go online. But now that restrictions are gone, many of them are returning to in-person celebrations. Here are some Hawaii festivals and events to look forward to in the coming weeks and months:
The Big Island Jazz and Blues Festival is scheduled for June 4 and features a lineup of Grammy Award winners and jazz and blues masters. There's a festival kickoff dinner at the Redwater Cafe on June 2 and a dinner and show at the Mauna Kea Beach Hotels' Copper Bar. 
From June 9 to 12, the Kapalua Resort is hosting the 41st-annual Kapalua Wine & Food Festival on the island of Maui. The schedule includes a winemaker dinner at Cane & Canoe Restaurant, food and wine pairings at Sansei Restaurant & Sushi Bar, two wine seminars by a winemaker and master sommelier and a walkabout tasting gala at the Plantation House Restaurant and Kapalua Golf Course.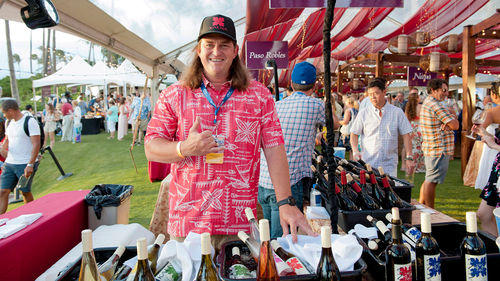 The Kapalua Wine & Food Festival features a walkabout tasting gala at the Plantation House Restaurant and Kapalua Golf Course. Photo Credit: Courtesy of Kapalua Wine & Food Festival
This year marks the 150th King Kamehameha I Day, a holiday celebrated in honor of Kamehameha the Great's accomplishment of uniting the Islands in 1810. Fourteen consecutive events will take place on Molokai, Oahu, Hawaii Island, Maui and Kauai from June 3 to 18. The King Kamehameha Statue lei-draping in Honolulu happens at 1 p.m. on June 10 and at 8 a.m. on June 11 in Kohala on Hawaii Island. Also on the schedule are floral parades in Honolulu, Kohala and Kona and Hoolaulea celebrations in Kaunakakai, Honolulu, Kona and Lahaina.
The Maui Film Festival is happening July 6 to 10 at the Maui Arts & Cultural Center's outdoor A&B Amphitheater. The "Yin & Yang of Gerry Lopez" is one of the documentaries to be featured. Also at the Maui Arts & Cultural Center is the free Slack Key Guitar Festival, honoring the Hawaiian art form, from 1 to 7 p.m. on June 26 
The 21st-annual Koloa Plantation Days festival takes place July 23 to 31 at CJM Country Stables in Poipu, Kauai. Kicking it off will be rodeo events happening July 22, 23 and 24 to celebrate Hawaii's paniolo (Hawaiian cowboy) heritage. The rodeo will feature bull riding, team roping and barrel racing. There will also be food trucks, pop-up shops and info booths to browse.
The Aloha Festivals return in September with three signature events on Oahu. It begins with an opening ceremony on Sept. 10 at Helumoa Gardens at The Royal Hawaiian Center, followed by hula and musical performances. On Sept. 17, the 68th annual Waikiki Hoolaulea block party takes place at the beachfront on Kalakaua Avenue, attracting thousands with food, dance and music. Finally, on Sept. 24, the 74th annual Floral Parade proceeds from Ala Moana Park down Kalakaua Avenue in Waikiki and ends at Kapiolani Park. Floats will feature colorful flowers and horseback riders will showcase traditional pau (long skirts worn by women) wear.
link