The fall 2022 Hawaii Resident Sentiment Survey was released earlier this month by the state of Hawaii Department of Business, Economic Development & Tourism. The survey helps the state understand how tourism affects residents. Resident sentiment has been measured since 1988. 
The survey shows some improvements, especially compared with 2021, when Hawaii became inundated with visitors once Covid-19 restrictions were lifted, but it's clear that there's still a lot more work to do.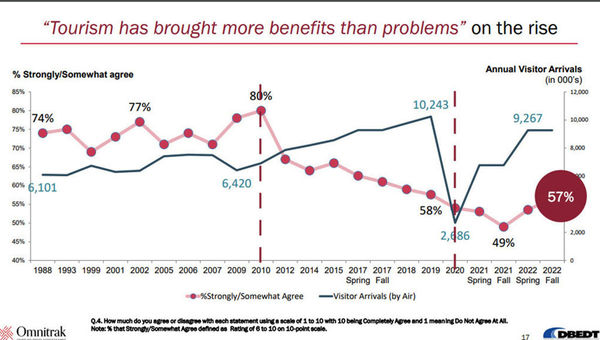 Hawaii residents' sentiment toward tourism has gotten worse over a period of many years, but a recent survey showed a positive uptick. Photo Credit: Courtesy of Hawaii DBEDT/January 2023
"The tide is turning in the right direction due largely to our collective destination management efforts in partnership with community stakeholders, government agencies and industry partners," said John De Fries, CEO of the Hawaii Tourism Authority, in a press release. "We continue to reinvest funding directly into the community to effect meaningful change and mitigate tourism's impacts in hot spot areas throughout the state."
De Fries, who started in his position in September 2020, immediately sought to create destination management plans for each county in a quest to help manage impacts — and this does seem to be helping. Residents aware of these plans had more favorable responses in the survey.
The survey showed positive trends in these areas:
• 44% of the residents surveyed believe that tourism is being better managed on their island, compared with 41% in spring 2022.
• 49% believe that more effort is being made to balance economic benefits of tourism and quality of life for residents, compared with 46% in spring 2022.
• 67% of residents have a favorable view of Hawaii tourism as an industry, up from 62% in fall of 2021.
It's important to note, however, that if you look at the data over a period of time, Hawaii residents' negative sentiment has been getting worse over a period of many years — in some cases over 10 years — so it did not just spike because of the post-Covid travel surge. 
Fifty-seven percent of the residents surveyed believe that "tourism has brought more benefits than problems." This is up from its all-time low of 49% in fall 2021, but 57% is still much lower than it was in 2010, when it was 80%.
For the survey statement "My island is being run for tourists at the expense of local people," 67% of residents agreed. The good news is that this is slightly down from 68% in fall 2021. But agreement with the statement has been rising since 1993, when it was at 45%.
Considering that Hawaii residents' positive view of the tourism industry has been dropping over a period of many years, this is not something that will change overnight, but it is showing signs of turning around.
link