Did you know that Hawaii Airports include 14 active civil aviation facilities, 5 of which handle the bulk of the state's inter-island and trans-Pacific traffic? Here's more about your arrival airports that many don't know.
Trivia: What is Hawaii's oldest airport, and why is Maui's airport code OGG? Read on to find out more.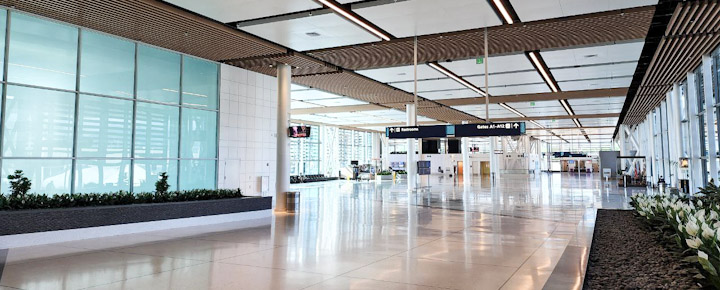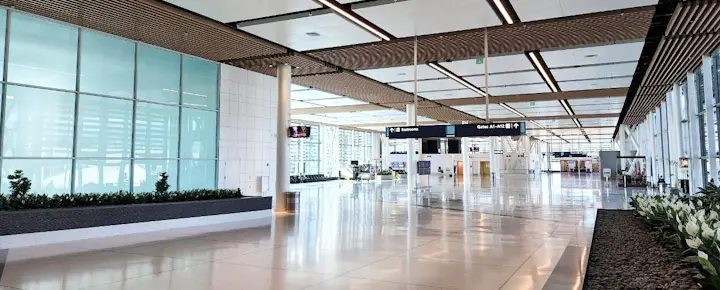 Honolulu International Airport/Daniel K. Inouye International Airport. 
The first and most famous of our commercial Hawaii airports is HNL, called initially John Rodgers Airport. The open-air facility, where you'll enjoy the fragrance of tropical flowers wafting in trade winds, originally opened in 1927 and was named in honor of the aviator and sailor. In 1925, Rodgers made the first trans-Pacific flight from California. When his plane (a flying boat that could land and take off on water) ran out of fuel hundreds of miles from Hawaii, he crafted sails from the wings to complete the journey.
Being the primary airport of Hawaii, HNL sees more than 12 million annual visitors. It is a fascinating airport with cultural gardens pictured above, among its other unique amenities.
1940s: HNL was a key military air base for Pacific operations. After that, it began to see improvements when it was returned to civilian use.
1950s: The era began with the name change to Honolulu Airport in 1951. As Hawaii air travel began to explode, it became obvious that the prior airport would be grossly inadequate.
1960s: HNL began to see significant expansion and modernization that would accommodate the increasing number of travelers associated with jet travel to Hawaii.
1970s through 1980s: The airport again was renamed in 1978 as Honolulu International, which was overdue, given its strategic gateway position between international destinations and the U.S. Expansion and upgrades continued throughout the 70s to accommodate ever-increasing passenger loads.
Since 2000-2020: The airport began a series of further expansion and renovation projects to modernize its aging facilities, improve efficiency and provide a better passenger experience.
2020s: The airport continues to improve its facilities to modernize what is still a woefully inadequate infrastructure. That included the $300 million Mauka Concourse that opened in 2021. Two years later, it is still wanting for much improvement, under the lacking guidance of the Hawaii State Department of Transportation. One ugly fact is that the state of Hawaii is one of only a few states in the country that is lacking an Airport Authority.
Kahului Airport (Maui).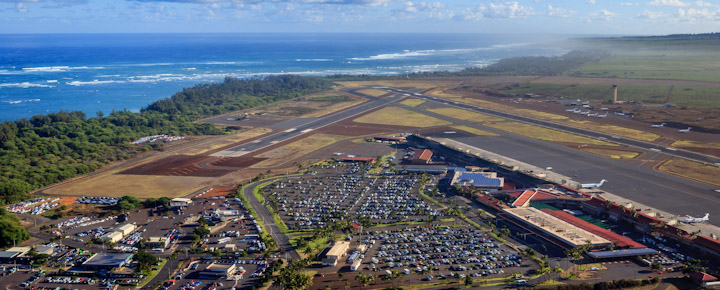 They designated OGG in honor of aviation legend and Kauai native Bertram J. Hogg (which is pronounced Hoag). The second busiest of Hawaii's airports serves one of the routes with the most significant air traffic in the country, between Honolulu and Maui.
1950s: A new Kahului Airport opened for interisland passenger flights and freight in 1952 when operations on Maui were moved from Puunene to Kahului following World War II. It had begun earlier as a small airfield used for interisland flights and later military. It was at that time it was renamed Kahului Airport.
1950s-1960s: OGG began a series of improvements to accommodate the ever-increasing number of tourists arriving.
1970s-Today: Airport modernization and expansion projects have sought to improve a poor original design of the airport's gate system and overall infrastructure. Upgrades have included new runways, terminals, a consolidated parking facility, and other amenities designed to improve passengers' experience.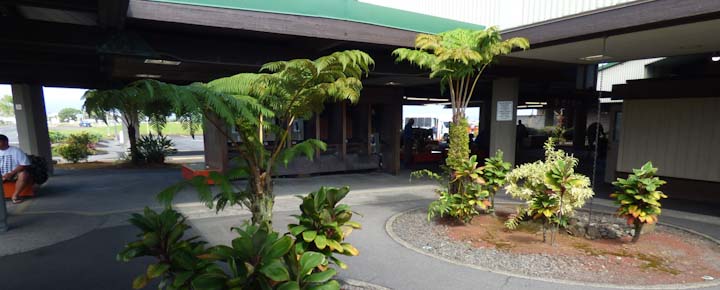 Hilo International Airport.
Where did the code ITO come from? We're not sure. The obvious code for the Big Island airport would have been HIL, which was already taken in Ethiopia. It may have been named after an early manager at the airport for Hawaiian Air, whose name was, of course, Ito.
1920s: Hilo Airport began in the early 1920s, and by 1928, it started operations as Hilo Airport.
1940s: The U.S. military took control of Hilo Airport during WWII for military use. It was a military airfield and a logistics base for training and defense preparedness.
1950s-Today: Hilo underwent improvements and expansion after WWII to accommodate more visitors. Commercial flights commenced, and it became an essential hub for Big Island transportation. New terminals, as well as runways and other infrastructure and facilities, were built to improve the passenger experience and accommodate larger planes. In 1989, the airport was named Hilo International to reflect what was expected to be its future role in international travel. However, that did not materialize, and in fact, the airport has become a minor airport in Hawaii despite its overbuilt size. It no longer accommodates flights from the US mainland.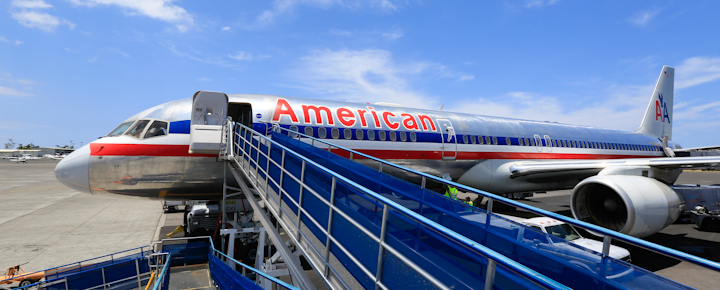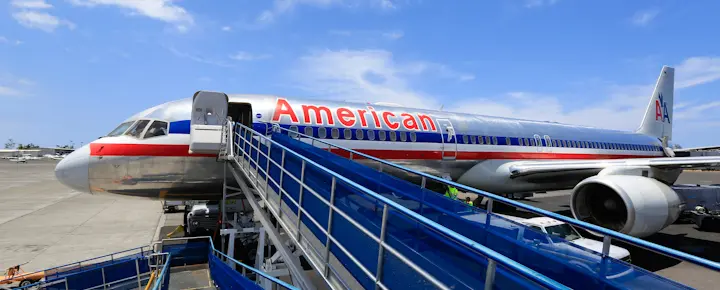 Kona International Airport/Ellison Onizuka Kona International Airport at Keahole.
Built on recent lava flow, KOA is the only major island airport that doesn't use a Jetway. When the airplane doors open, you descend the stairs under a warm Hawaii sky. KOA opened in 1970, although construction continued for another twenty years. Since then, the population on the west side of the Big Island has increased by 50 percent, and more than 85% of visitors now stay on that side of the island.
1960s: The new airport construction began in the 60s, although it was planned sooner. Built at Keahole Point, it was known as Keahole Kona Airport. The goal was to accommodate a burgeoning population on the Big Island's west side.
1970s: New terminal facilities and runways were constructed for the unusually designed, all-outdoors, low-rise airport.
1990s. In 1994, the airport became Ellison Onizuka Kona International Airport at Keahole. The name was changed to honor the Hawaii-born astronaut who died in the 1986 Space Shuttle disaster.
2000-Today: The airport has undergone modernization projects and other expansions accommodating a growing number of passengers traveling to the Big Island. Those changes are still ongoing in 2023 and include a new South Terminal.
Kapalua-West Maui Airport (JHM).
This airport code isn't widely known but represents Maui's airport near Kapalua Resort. It replaced the prior Kaanapali Airport in 1987. The code honors John H. Magoon, who was Hawaiian Airlines' president when the company developed the airport.
1960s: As West Maui grew in popularity, there was a need for an easier-to-reach airport other than Kahului.
1970s: Kapalua Airport began operations, which included smaller planes and general aviation.
1980s-Today. Kapalua Airport has seen upgrades and modernization to terminal facilities and runway enhancements. It has been used over the years by multiple airlines but fell out of favor recently, including the departure from the airport of Hawaiian Airlines. Currently, one airline is flying from Kapalua, which is Southern Airways Express (Mokulele).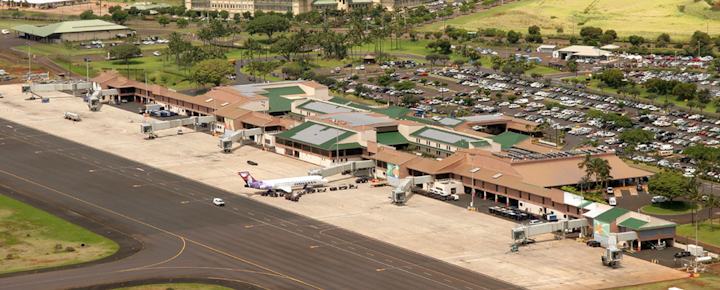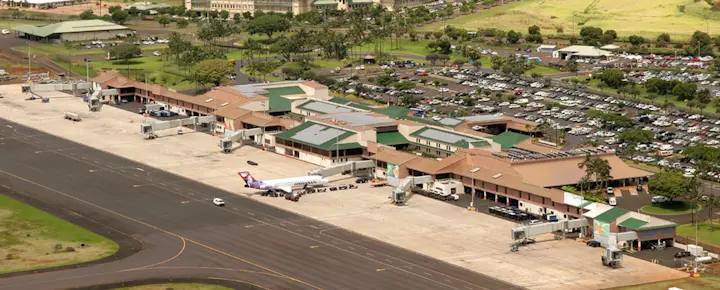 Lihue Airport (Kauai).
Kauai Airport in Lihue was not its first. That honor goes to Burns Field near Hanapepe at Salt Pond Beach Park. Commercial flights by Hawaiian Airlines started there in 1929. A year later, runways at Burns Field were extended with prison labor, which also played a part in construction at other Hawaii airports. Lihue Airport (LIH) is the only airport serving the island of Kauai in Hawaii.
1940s: During World War II, the military first recognized the strategic significance of Kauai and sought to exploit that potential with an air base. The airport was taken over by the military and expanded for their operations.
1950s-Today: Lihue has seen many upgrades and expansions corresponding to increased flights to Kauai. Improvements have included a new terminal, runway enhancements, and other amenities to improve the passenger experience. Most recently, plans to expand the crowded airport by adding three additional gates were terminated following community input.
Do you have anything you'd like to ask about Hawaii's rich history in civil aviation?

link