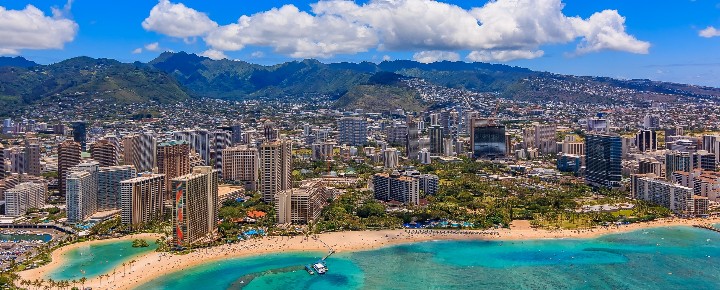 If you thought the worst of Hawaii travel problems was over, well, not so fast. Even since we wrote about the Epic 1,371 Hawaii Flights Delayed Or Cancelled In Travel Collapse that occurred this week on Monday and Tuesday, things haven't entirely cleared up. If you're flying in the next week or so, you'll want to take note of this and be careful to check beforehand with Flight Aware to avoid getting caught off-guard.
Latest Hawaiian Airlines flight diversion.
Yesterday, Hawaiian Airlines Flight 16 was bound for San Diego. It was reported that due to bad weather at it's destination, the flight didn't go to San Diego. Instead, the aircraft was diverted to Los Angeles, where it landed at 9:25 PM, then spent the night.
This morning, the A330 wide-body took the short 120-mile jaunt down to San Diego in improved weather to complete yesterday's journey and board passengers for the return flight to Hawaii. Today's outbound flight to Honolulu was due to depart San Diego at 7:55 AM. But with the next day's arrival of the aircraft, the departing flight, HA 15, is finally in the air and is now scheduled to arrive more than four hours late.
477 Hawaii Flight Delays and 27 Cancelations on Thursday.
Yesterday Hawaiian Airlines again took the brunt of the canceled and delayed flights in Hawaii, which is our exclusive focus. Regarding the percentage of that airline's arrivals and departures delayed in Hawaii, it was 63% at Kona, 66% at Honolulu, 66% at Maui, 63% at Kauai, and 60% at Hilo. That is according to the reputable flight tracking service FlightAware.
The next greatest percentage of Hawaii flights delayed, and not operating significantly better than Hawaiian, was Southwest, which had flight delays amounting to 47% at Kona, 47% at Honolulu, 47% at Maui, 50% at Kauai, and 50% at Hilo.
At Honolulu yesterday, twelve flights were canceled (9 Hawaiian, 1 Delta, 1 Alaska, and 1 Westjet). In addition, there were 230 flights delayed (138 Hawaiian, 11 Delta, 11 Alaska, 5 Westjet, 8 Mokulele, 39 Southwest, 12 United, 2 American, and 4 Air Canada).
At Maui yesterday, nine flights were canceled (4 Hawaiian, 3 Westjet, 1 Alaska, and 1 United). In addition, there were 125 flights delayed (64 Hawaiian, 1 Westjet, 8 Alaska, 5 United, 8 Delta, 8 Mokulele, 18 Southwest, 7 American, and 6 Air Canada).
At Kauai yesterday, six flights were canceled (4 Hawaiian, 1 Alaska, and 1 Westjet). In addition, there were 47 flights delayed (31 Hawaiian, 2 Alaska, 1 Westjet, 2 Delta, 10 Southwest, and 1 United).
At Kona yesterday, no flights were canceled. However, there were 51 flights delayed (29 Hawaiian, 7 Alaska, 10 Southwest, 6 United, and 1 Westjet).
At Hilo yesterday, no flights were canceled. However, there were 24 flights delayed (18 Hawaiian, 5 Southwest, and 1 United).
Is your Hawaii flight operating on time?
Beat of Hawaii's editors are traveling around the state again next week and hope to be able to personally report better on-time performance than we are seeing and experiencing this week.
Hat tip to commenter Carlo. 
Disclosure: We receive a small commission on purchases from some of the links on Beat of Hawaii. These links cost you nothing and provide income necessary to offer our website to you. Mahalo! Privacy Policy and Disclosures.

link