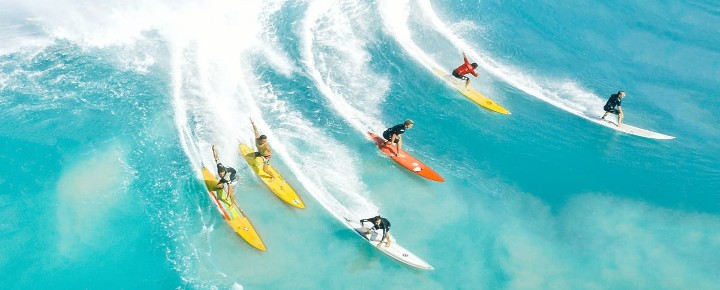 Hawaii just confirmed what we on the ground already knew. It's busy here, very busy. And it is only going to get busier due to a number of complicating factors.
The state forecast calls for continued growth ahead of the rest of the country as "tourism recovery continues, employment has increased and… labor shortages have put some limit on the growth." You may have seen that labor shortage at hotels, restaurants and with activity providers.
Global issues that keep visitors focused on Hawaii vacations include international travel concerns, economic worries that can make a Hawaii vacation appear reasonable in relation to other options, and unknowns like Monkeypox and Covid.
First we'll tell you the numbers and then what they mean for your Hawaii vacation with our tips.
Historic data for January through April 2022.
During the first four months of the year, domestic visitors exceeded the same months pre-Covid. The state confirmed that "during the first four months of 2022, U.S. visitors were 13.8 percent higher than the same period in 2019."
Lack of international visitors keeps the travel boon from exploding more.
It's super-busy in Hawaii. The neighbor islands, which receive significantly less international visitors than does Honolulu, are disproportionately more impacted by the increase in domestic arrivals.
Regarding international travel, from January through April, the state reported 72% fewer foreign visitors compared with 2019, although that number too is slowly recovering. Those who did come were largely Canadian, even though they were at a level just 56% of what we experienced in 2019. The state reported that Japanese visitors were still down 97% compared with 2019.
Visitors seek the Hawaii neighbor island experience.
Data indicates that Hawaii's tourism recovery, especially in April, "was robust especially on the neighbor islands," according to the state.
The Big Island, Kauai, Lanai, and Maui were well ahead of April 2019 in the latest month studied. The percentage recovery increase compared with 2019 was Oahu 85%, Maui 103%, Lanai 124%, Big Island 108% and Kauai 109%.
Hawaii hotels are running very strong, too.
While hotel occupancy rates were still down 8% statewide compared with the first four months of 2019, hotel room rates jumped 27% to reach an average of $364. As a result, the state increased its accommodation tax (TAT) revenue by 22%. State tax revenue is now at or near historic levels.
Domestic air seats are about to set historic new records.
The state says that during the period of May through July 2022, "seats from the U.S. mainland will be 12.5 percent higher… compared with the same period in 2019. That, will result in an all-time record.
What can you do to avoid the throngs of Hawaii visitors?
First, if possible, don't come during peak summer travel season, which is from June 10 to August 14. Instead, choose a late summer or fall vacation from August 15 through December 15. Better prices, increased availability, and fantastic weather will be yours.
Also try to avoid Christmas in Hawaii. This is the busiest and most expensive time for a Hawaii vacation. Both availability and pricing of airline tickets, hotels and vacation rentals, Hawaii car rentals, activities and restaurants will surely be problematic.
Starting early January 2023 until spring break 2023 is another excellent time to visit Hawaii and escape the cold found on the mainland.
Disclosure: We receive a small commission on purchases from some of the links on Beat of Hawaii. These links cost you nothing and provide income necessary to offer our website to you. Mahalo! Privacy Policy and Disclosures.

link